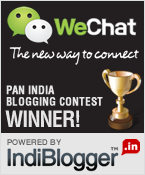 Most things in my life have happened late.
Except perhaps, my reaching 60 years of age.
One of the last to get a desktop, flat monitor, laptop, cordless phone, then a very basic cell phone which did not venture into downloading and photographing (with a B and W screen). One of the last to get a new car after a 38 year old one, became irreversibly geriatric. I still think of the dentist when someone mentions Bluetooth, and have a natural tendency to lick my lips when Ice Cream Sandwich OS is mentioned. I think SMS is a curse on the English language aided and abetted by something called Twitter which again encourages the same.
Then times changed, I won a smart phone in a contest.
I felt very stupid and ancient using it, with all its fancy capabilities. By then something called Apps arrived. I used to think they had a spelling problem, and actually meant Appa, but no. As an oldie I was severely abbreviation-disabled. The daughter would be constantly answering weird tones with taps, and I slowly learned about Apps and WeChat. Terribly ordinary names if you ask me. ( I mean why not Bolo-Bolo ? Sounds so Spanish, na ?)
On WeChat, you could do audio and video chats. I didn't try the video ones; I mean why show people you speak to on WeChat, how you've slathered your face with besan and curd..... , But the audio was great. When someone invited you for something, you could sense whether they were being formal or really meant it.
I decided to try the group chat , and a feature of WeChat called drift bottle. You throw a bottle into the sea with a message, and someone might pick it up.
And guess what.
Yaalu Drasaad Saadav(YDS)
, picked up one, in a round red building in the capital, where he was fooling around with his special free smart phone.
Another was picked up
Sir Highappan
, erstwhile royal cement prince , somewhere in a dark place in Mumbai.
This Drift bottle feature was fun. One of those almost stopped drifting and became like a statue, till I found the person behind the statue ,
Ms.

Chayawatibehen
, in Lucknow.
How can you discount a bottle landing up at the Gateway of India, that too when
Khakee Pawant
(KP)
was shooting there ; just amazing to see her emerging , à la Ursula Andress, from that oily water, with the bottle.
And just when I thought i was done , there was a
Pandu Hawaldar
, who came blowing his whistle , waving his hands, and throwing the bottle down, for checking by the bomb squad.
Me :
Hawaldar Saheb(HS)
, the bottle is legal and real, There is a message inside , I think. Just check.
HS
: Bai, please let us do our job. We are very particular at checking things that come in from the sea.
Khakee Pawant (KP)
: Let me see. Let me see. There may be a secret message inside. Maybe it is a new movie role for me...!
Yaalu (YDS)
: Oye
Khakee ben
, you cannot FIX roles like this. I will demand a BBI investigation into these bottles. Waise I haven't been on too many committees lately. This is a great opportunity .
Me :
Yaaluji
, I can explain. I threw these bottles....
Sir Highappan (SH)
: There ! Everyone is accusing me of throwing games. Where is the media when this old lady throws bottles with secret messages ? I protest ! I protest !
Sudden clearing of a throat.
Sir Highappan (SH)
thinks it is his father in law, the noisy insect control king. But its actually
Chayawatiben(CB)
, coming to my aid .
CB
: Please.
SH
, have some respect for the old lady. She wrote the same message in all the bottles. It is just like our speeches, same stuff , delivered unchanged, isn't that so
Yaalubhai
?
Hawaldar Saheb (HS) :
Please , let me do my work. This
Khakee Pawant
lady isn't listening. She is posing with it in front of the Gateway. My seniors will be livid. So many people touching bottles, and leaving fingerprints, let me call the
Grime Branch
, before someone wipes them all off.
Me:
Hawaldar saheb
, Just open the bottle and see na !
Yaalu Drasaad Saadav(YDS)
:
Chayawatiben
, how do you know what message the old lady wrote ? Did you have prior information ? Is this FIXED ?
Sir Highappan
must have smirked, his tonal quality changed.
Sir Highappan
(SH)
: Finally. Someone understands.
So many fixers
. And I go to jail. Simply because my cousin's grandpa's brother's step-sister-in-law's grandson made movies in Chennai and recently withdrew support to the government. Bah !
Suddenly something shakes. No , it isn't
Khakee Pawant
doing one of her dances. The
Hawaldar Saheb
has figured out WeChat, and has pressed the
Shake
feature. This finds out folks who are
shaking
as well, next to you, or across the globe.
Hawaldar Saheb(HS)
: Bai, don't worry. I saw how you press this shake button. So tried it myself. But I am trying to see who all are shaking across the Globe with
Sir Highappan
. You never know. It could be a secret indication of something.
Yaalu Drasaad Saadav(YDS)
: For a moment, thought it was an earthquake. I am sure, you understand
Chayawatiben
, all the relief works, aid from the centre, ex gratia payments....
Chayawatiben(CB)
: Yes,
Yaaluji
, I was certainly falling short of statues .... once the elections are over, I can complete them with all these funds.
Shaking baking
will keep happening. I thought you were in the august house in the Capital. Isn't someone listening to you say all these things ?
Khakee Pawant(KP)
: Swaying to the song , dances while singing "Jo wada kiya ho, nibhana padega..."
Havaldar Saheb
smiles and nods, and beats his lathi to the rhythm of the song.
Sir Highappan
listens to all these conversations .
He isn't surprised.
Yaaluji
, decides to throw some bottles of his own. He is hoping some third front types will find the bottles drifting to wards them.
Chayawatiben,
ignores the old lady and starts discussing possible participation in "cultural programs" by
Khahki Pawant
during campaigning for the forthcoming elections.
Yaalu Drasaad Saadav(YDS)
: Thank god my son didn't play the IPL this year . Waise all he did was carry drinks. But at the end of the day Sewa has its rewards. I've decided to
FIX
him in the party instead.
Sir Highappan
(SH)
: Shhh
Yaaluji
. Be aware, you are on WEChat live group chat, shaking or nonshaking, with or without drifting bottles. You
simply cannot
use some words.
There is a sound of a door closing behind
Chayawatiben
. She must be leaving Lucknow to go somewhere.
Chayawatiben(CB)
: Bye everyone.
Yaaluji
see you in Delhi. I am on that junket of folks going to China to study the use of Hindi in that country.
Khakee Pawant
, don't forget my invitation. I'll take care of all the arrangements.
Sir Highappan
(SH)
: Gosh. I'd FIXed the use of a cell phone with the guard, and my time is up. Hope he doesn't report it to the cops . But bye for now. Who knows, you may see me in Delhi too !
Yaalu Drasaad Saadav(YDS)
: Welcome ji, welcome to Delhi !.
Khakee Pawant
, you do bhojpuri films by any chance ? Yes ? Waise, I need to stop the chat, the Speaker calls.
The
Hawaldar
breathes a sigh of relief. Looks up at the old lady with the bottle in one hand, and his phone in the other hand. Most of the Gateway crowd seems to have collected around
Khakee Pawant
, who has actually lost her phone in the melee.
"
Havaldar Saheb(HS)
: Bai, tell me , how the phones have become so smart ? How is it that I spoke to so many important people ? What is there inside my phone ?
Me :
Havaldarsaheb
(HS)
, there is something called WeChat in your phone, which allows you to have all these group conversations. You can also have one-to-one conversations, like telling your wife to make Kande Pohe for breakfast when you return after a nightshift. Nice na ! She can even send you a picture of the Kande Pohe if they are ready .And you can even buy Dhaniya leaves on the way if you feel she hasn't put enough......
Havaldar Saheb(HS)
: But my friend's phone cannot do all that. How come ?
Me :
Your
phone is managed by something called Android, and the work is done by something called Icecream Sandwich.... Your friends phone is old .
Havaldar Saheb(HS)
: Oh ! I must tell my friend about this. With just a slight difference. When he gets a new phone from the office,
maybe he can choose a decent VadaPav instead of Icecream Sandwich . Kasa ?
The chat has been a bit overpowering. There is something utterly and surprisingly graceful about folks holding phones horizontal in front of their lips, and talking away.
There could be so many applications of this. There could also be so many
mis
applications of this.
The conversation has opened my eyes.
And I forgot to mention that my mouth which fell open seeing all these folks, continues to remain in that position still.
I guess it is time to throw a few more WeChat
drifting bottles
again....and
shake
some folks up ....
Check out the WeChat Youtube Channel
here
.
Submitted as an entry to the Indiblogger-WeChat
"WeChat with Anyone, Anywhere!"
contest .